RESEARCH &
ANALYSIS
SERVICES
AGILE & SCALABLE
CONTRACTING
SERVICES
REDUCE SPENDING
& CAPITALIZE ON
PREVIOUS INVESTMENTS
EXPEDITE DEVELOPMENT
& DEPLOYMENT
OF SOLUTIONS

ELIMINATE
REDUNDANCY
STIMULATE
INNOVATION
RESEARCH &
ANALYSIS
SERVICES
AGILE & SCALABLE
CONTRACTING
SERVICES
TECHNICAL FOCUS AREAS
The DoD IAC's services span across 22 Technical Focus Areas, each critical to the needs of the Department and mapped to one of the three corresponding primary domain areas: Defense Systems, Cyber-Security and Information Systems, and Homeland Defense and Security.

Click the icons below for more information:
Homeland Defense - Automatic Generation of Yara Rules to Target Malware
Download >
Defense System - Equips SOCCENT with Fires Warfighting Function
Download >
IAC MAC - Electromagnetic Spectrum (EMS) Campaign-Level Modeling and Analysis Plan
Download >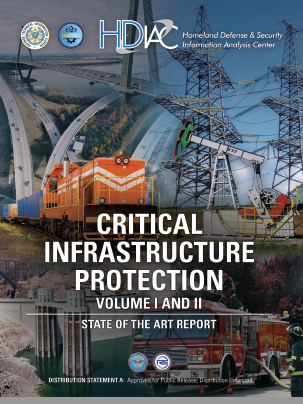 Critical Infrastructure Protection Part I and II
Critical Infrastructure Protection is one of the HDIAC's eight technical focus areas and was chosen as the subject of our latest state of the art report due to its importance to the nation. Critical Infrastructure Protection is composed of National Infrastructure, Physical and Virtual Systems, Cyber Infrastructure, and Continuity of Operations.
Download the full report here.
DEFENSE TECHNICAL INFORMATION CENTER
8725 John J. Kingman Road
Fort Belvoir, Virginia 22060-6218
1.800.CAL.DTIC (1.800.225.3842)
https://Discover.DTIC.mil