Integrated Soldier Sensor System (ISSS) Blast Sensor
DSTAT SUCCESS STORY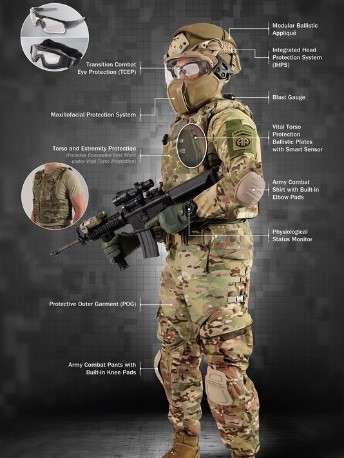 Walter Reed Army Institute of Research (WRAIR)
Blast injuries, in particular Traumatic Brain Injuries, are a continuing concern for deployed U.S. Service Members. In order to study blast effects and monitor the well-being of U.S. Service Members involved in a blast event, a Soldier-worn blast sensor integrated with data collection and transmission capabilities is needed.
The Integrated Soldier Sensor System (ISSS) is a collection of Soldier-worn sensors designed to monitor performance and physiological well-being in both training and combat scenarios, in order to provide better situational awareness to squad leaders, medics, and other stakeholders. The system originated under an Army Rapid Equipping Force program on the DoD IAC's Military Sensing Information Analysis Center (SENSIAC) contract. GTRI continued development of the ISSS under a DS TAT by building wireless blast sensor prototypes with configurable overpressure thresholds for triggering, and integrating them with the existing ISSS hardware and software. GTRI created a front-end application between a PC and ISSS devices to accommodate sensor data downloads, and an Android application was developed to receive and display data from the sensors on the user end. GTRI modified the ISSS hardware and software to reduce noise in triggering the blast sensors and lower the maximum threshold to improve precision. Other efforts currently in progress involve incorporating the ISSS suite into a cloud-based data management architecture called the Health Readiness and Performance System for the U.S. Army Medical Research and Materiel Command.
The ISSS blast sensor demonstrates the ability to incorporate additional sensors into the ISSS architecture in the future for more extensive Soldier performance and safety monitoring, which meets the USD R&E imperative to affordably enable new or extended capabilities in existing military systems. It also provides a tool for collecting and sharing data on blast events that can be used to advance the state of medical research regarding blast injuries for the warfighter.
DS TAT is operated by Georgia Tech Research Institute under contract FA8075-14-D-0018.Distribution Statement A:  Approved for public release; distribution unlimited..